It has taken me way too long to write this post. I am simply daunted by the task of doing this show justice. But I must try. (Note: Still working on my Elizabeth analysis.)
For the unfamiliar, Legend of Korra is the sequel series to Avatar: The Last Airbender.  While I highly recommend the original series, it is not a prerequisite. If you wish to go into the show knowing nothing more than that (besides what you can assume from my title), read no further. You can watch the first episode here.
As for the rest of you, I'm going to discuss (one of the reasons) why Legend of Korra is so valuable. Simply put, the female characters are total badasses. They are not helpless damsels who long for a male companion, nor are they generic and one-dimensional beings. These are powerful women who face deep internal and external conflict, each drawing their strengths from different places. Are they unrealistic? No (aside from being able to bend the elements). They are individuals. They grow throughout the story. They are role models.
Let me show you what I mean.
Korra
We're going to start with the main character. I mean, just look at her biceps! More seriously, Korra undergoes tremendous growth across the show's four seasons. She goes from cocky and unrestrained to broken down and vulnerable to a compassionate hero, savior of the world, sensitive to the suffering around her. She makes difficult decisions, ones she must come to herself, though that is not to say she doesn't benefit from the guides among her friends and family. Being responsible for the balance and peace of the universe, Korra is naturally the villains' prime target. She does need saving at times, but she is never helpless in her captivity, an crucial distinction from the damsel in distress trope. Her character is also praised for "not being white."
Asami
She is daughter to a rich father who goes on to own her own company. Early in her development, Asami must cope with betrayal and figure out the meaning and worth of forgiveness. Her relationship with Korra begins as 2/3 of a love triangle with Mako, but any possible cattiness is quickly diminished. Their bond deepens as they grow and support each other in their times of despair.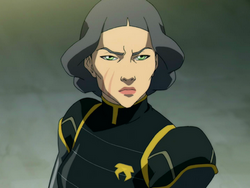 Lin Beifong
Daughter to Toph (the first metal-bender, introduced in Last Airbender), Lin is Republic City's Chief of Police, sworn to do what is right and just. She proves willing to sacrifice herself for a necessary cause, putting herself in a powerless position, needing aid that she has never asked for. As the series goes on, you learn the meaning behind Lin's bitter loneliness. Revisiting the cause stirs several problems she must overcome, conflicts she's spent decades avoiding. She succeeds in facing them, but by no means was it easy.
Kuvira
My favorite villain ever. Period. Kuvira is intimidating and battle-hardened. She makes her first appearance in Season 3 but she only becomes a threat in Season 4. Her motivation and rise to power is explained, which allows you to really understand her character, especially once her character arc is finally realized.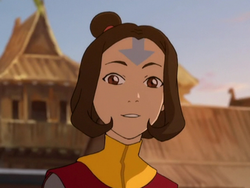 Jinora
She becomes serious and fully competent over the course of her journey. You could argue that Jinora develops the most, given she is young and matures quickly. She goes from a free spirit to an air master, and that's reflected in her dedication and spiritual connections that excel beyond even her father's abilities.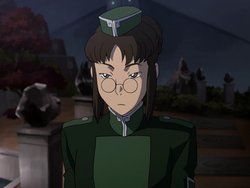 Zhu Li
The soft-spoken and serious Zhu Li is probably the most intelligent character on the show. A minor character, yes, but she is the mastermind behind Varrick's ideas.
Ming-Hua
No arms? No problem! Ming-Hua is a villain from Season 3, as a member of the Red Lotus. She is ruthless and clever. There's a reason she was imprisoned for 13 years deprived of any water.
This is not a complete list, but I want to emphasize there is a variety of female representations in Legend of Korra. Young, old. Evil, innocent. Aggressive and passive. Four-limbed and two-limbed. There are also characters whose developments were not fully explored (Ikki and Korra's mom, Senna). But all of these depictions are handled properly and I applaud the creators for pushing these boundaries, even continuing to write episodes when the show was taken off the air.
I don't see another series doing any better. But I'd love to be surprised.